A year ago today was the last day I saw my horse. Her registered name was Sweet Maybeline (Because it looked like she had eyeliner) but I called her Liberty. She was born 4/23/93, so that makes her currently 16yrs. My parents unfortunately had to sell her for financial reasons. (However, they never talked to me about it, and being clueless in the horse industry, sold her for 1.5k when she was worth at least 5k.)
When we bought her 8 years ago, she was a 7 year old green-broke retired broodmare. She had been used for nothing but breeding at U of U previously. They used her for breeding because of her rare set of markings: Ice caps, medicine hat, "eyeliner", and overo. These markings are hard to come by all on one horse. My parents bought her for me (And for that I will always be grateful) and I finished her training. (Yes, I was only ten and trained a horse.) She was a speed demon and wanted nothing to do with moving slow.
By the time I was 13 we were entering local horse shows and would frequently bring him the blues for speed events. And because of her flawless flying lead change, we would occasionally bring home he blues for reining.
I loved that horse so much, and I wish I could have her back. But I know that she is at a good home with good people somewhere in Southern Utah.
Me and Liberty. I was about 15 in this photo.
Waiting to do barrels. That is my sister on back. I was about 14.
Booking it to the end. I had lost a stirrup, which is why I'm not sitting correctly. :]
Good view of her "eyeliner".
Me when I was ten with a horse I learned to ride on. In the background you can see Liberty. This was taken a couple months before my parents bought her.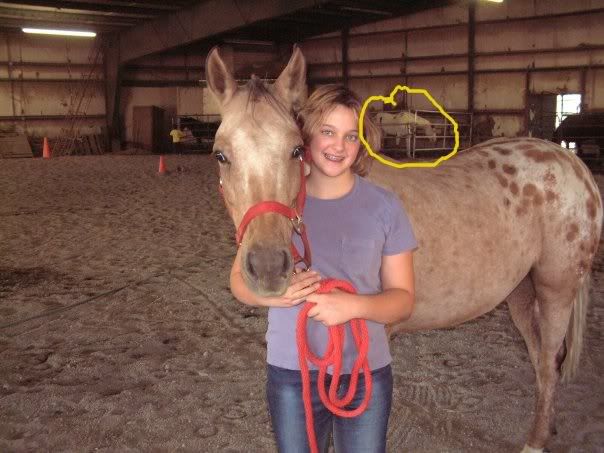 I had to show this one. haha. This is Chester, a Shetland pony cross I helped train. The owner wanted him broke enough to teach her little 7 year old daughter to ride on. I rode him about as often as I rode Liberty for a couple years. My feet almost skimmed the ground when I rode him. I always rode him bareback since any saddle that fit me wouldn't fit him. And most of the time I was too lazy to get a bridle out.
I was probably about 14 in this photo.